History with Pets and Volunteer Experience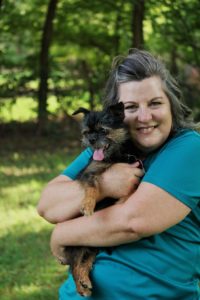 Growing up on a farm, we had barn cats, dogs, and even pet pigs. (Pet pigs are quite smart, clean and very humorous!). I had my own horse as a child and benefited so much from the incredible bond we shared. As an adult, I owned a two different horses and enjoyed many trail rides. I have hardly ever been without dogs in my life, most of which been strays and shelter dogs. My hobby is learning about positive reinforcement training techniques and training my own dogs.
Beware: I now have two dogs that I can't stop talking about.
Any one who is bonded to an animal understands, right?


My dogs make me laugh.
Humor is good for the soul!

We will never have to tell our horse that we are sad, happy, confident, angry, or relaxed. She already knows long before we do.
Volunteer Experience
In the past, I volunteered at Kansas Humane Society. I found Rufus there! My volunteer position was in project companionship. We carefully select dogs available for adoption that have good people skills. Then we take them out to see people in a nursing home to enjoy some doggy love. It is so rewarding to see the people's faces light up who miss having their own dogs. And, it is incredible to see the dog's behavior when they spot a true dog lover and make a special connection. There are so many different types of opportunities for volunteering at KHS. Try it!
Volunteering at Flint Hills Therapeutic Riding Center now known as Freedom Hooves Therapeutic Riding Center and Prairie Meadow Therapeutic Riding Center , were also amazing experiences. Physical therapists work with children or adults with disabilities on horseback (hippotherapy). Whether it is grooming, sidewalking, or leading the horse, they can always use volunteers. The healing power of horses never ceases to amaze me.
I volunteered with these agencies because I believe animals can significantly improve our mental and physical well being in many, many ways that we don't begin to understand.
Call 316-838-5691 to schedule your

"

meet and greet"
(initial consultation) at no charge or obligation.