Testimonials
Below are some happy dogs that were some of my first customers. The tan one has a perpetual smile and constant wagging tail, which I can't take full credit for; it's just her winning personality. We certainly have bonded over the years though affection, exercise, toys and games. The black dog loved to play fetch and would drop the ball a foot or two away and use his nose to scoot it right into your hand like a golf putter.
Here's what their owners had to say:
"We use Dixie from Gentle Guardian Pet Sitting to stop by and take care of our dog and cat and give them much needed attention when we have to leave town. Our dogs enjoy the walk that Dixie gives them and they are never anxious when we get back home. We are glad we can count on Dixie so we can keep our pets in their home environment and not have to resort to kenneling." David
---
Cat Sitting is a treat for me!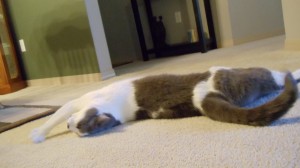 I love the challenge of drawing out the shyest of cats and making them purr. This cat was reticent at first, but now he is relaxed, loves to be petted and we play together.
Here's what the owners of the kitty in the photo has to say:
"My family lives in Minnesota so we travel a lot during the holidays to visit. Having Dixie available makes us worry so much less about our cats. Boarding is so expensive and both our cats just hate being caged up with other animals while we're gone. They are much happier when we come home because Dixie spends the time playing with them and showing affection (when they want it; they are cats after all). Dixie is wonderful at making our home look "lived in" while we were gone. She gets our paper and even takes out the trash if we need it." Melissa and Matt
---
"I have been so pleased with the services of Gentle Guardian Petsitting. Dixie doesn't just rush in to get things done quickly and then leave; she spends a big block of time with my two aged dogs — playing with one and cuddling the other, according to their personalities. My dogs love that attention, and I love that they are getting it while I am away. Dixie is passionate about animals and that carries over into her pet sitting service. I value her dependability and her availability for the schedule that my dogs prefer. I highly recommend Gentle Guardian Petsitting." Cindy
---
"I travel periodically for work and as my dogs have aged I worried more and more about leaving them in a kennel. I began searching for Pet Sitters that would be reasonably priced and willing to provide my dogs with care typical of their daily routine. It was important for me to find someone who could visit multiple times a day and take them for walks. Dixie was the answer to all my searches. She has done a wonderful job of caring for my babies when I am away and I know she truly cares about their well-being. I am so lucky to have found her." Amber
---
"Thank you Dixie, for caring for my cat, Pebbles, so many times over her 20 years with me. You have the gift of loving all pets. Your willingness to come and reassure her "all is well," allows me to travel to far away places, knowing Pebbles is happy at home." Donna
---
"I'd like to thank Dixie for doing such a great job. She is kind, considerate and very reliable. It was a relief to have such dependable backup services for my zoo when I had to go out of town. She came by the house to meet me, took notes and made sure she kept me updated while I was gone, so that I didn't worry about anything. I highly recommend her to anyone that needs an honest, caring person to take care of their pets. If she can handle my horde, she can handle just about anything." Amy
---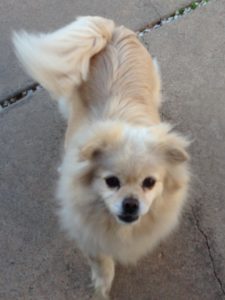 "Dixie is amazing! She does such a great job with my little Penelope. I would highly recommend using her if you're interested in a Pet-sitter!" Jamie
---
"I have two senior cat-izens, who are my 'oldest' kids. Gryffin is 14 and Phenix is 12. She is a wonderful caregiver to our two cats. When we recently booked our next vacation, the next thing out my husband said was Be sure to call Dixie! I highly recommend her for all your pet care needs!" Karra
---
"Dixie has been such a blessing. When I travel I used to worry about what to do with my dogs. She has made it so I don't have to worry. She is so caring and goes out of her way to do whatever she possibly can. Recently one of my fur babies was not doing well and she knew my anxiety was high. She stepped in and spent extra time with him just to ease my mind. I am so glad I found her and would recommend her to anyone seeking out a pet sitter. " Amber
Call 316-838-5691 to schedule your

"

meet and greet"
(initial consultation) at no charge or obligation.